Witchcraft & Starlight is my second Kickstarter campaign, and like my first, it well exceeded the funding goal. The campaign was fully funded in just under 48 hours, and collected a total of $5953. 
I planned my campaign for an October launch and came up with an appropriate theme for my pins, then worked up from there. I started with the Starlight Elixir design, keeping the spooky element subtle. I then established my color scheme: various shades of warm blues with a grey accent.
I also designed a simple, elegant border with a slight Art Deco flair to use on the backing card and the Tiers graphic. For the backing card, I used the border in combination with my feather logo, giving them both a crystalline effect to echo the background.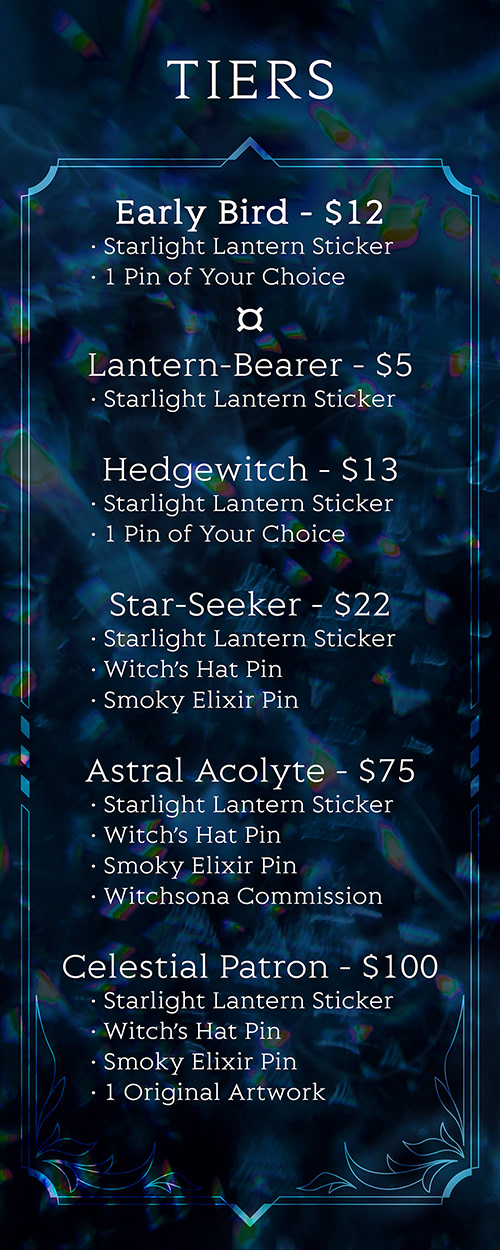 For the graphics, I used photo resources with lots of subtle texture and a mysterious quality. I chose a sharp, pointed serif for my main typeface, and used a narrower, rounded typewriter serif for my secondary typeface.
The Starlight Lantern design was originally released as a sticker design, but after receiving several comments expressing interest in an enamel pin version, I decided to make that one of the stretch goals. I set a total of three stretch goals, all of which were met.